Investors remained guarded Tuesday while reflecting on Wall Street's now 5-year-old rally, soft economic data out of Asia, and mounting tensions in Ukraine.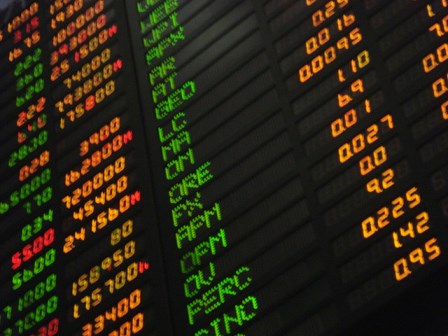 After a quiet Monday, which saw just 6 million shares change hands (the third lowest-volume day of the year) and left all three benchmarks modestly lower, Tuesday's session was much the same.
Nonetheless, a number of companies were trending higher. Some moved up on company developments or industry news, while others jumped on earnings or upgrades.
Following are 12 of Tuesday's hot stocks to watch.
Today's Hot Stocks List
Apple Inc. (Nasdaq: AAPL) shares rose nearly 7% to $538.74 Tuesday in intraday trading after Pacific Crest upgraded the stock to Outperform from Sector Perform and reiterated its $635 price target. That was welcome news to shareholders amid a 5.4% year-to-date decline. APPL has been out of favor for several months, and bearish short interest has surged a whopping 73.4% over the last two reporting periods to 26.4 million short shares sold. Worries are the smartphone market has become saturated. But recent data from com.Score shows Apple's iPhone business is still gaining market share. In the quarter ended December 2013, Apple's smartphone market share grew to 41.8%, up from 40.6% in the previous quarter.
Boyd Gaming Corp. (NYSE: BYD) shares got a boost after a 13D filing revealed hedge fund Elliott Associates has taken a 4.99% (or 5,380,000 share) stake in the Las Vegas gaming company. Shares climbed nearly 18% to $14 intraday on nearly five times its average daily volume.
Dick's Sporting Goods Inc. (NYSE: DKS) shares rose 3.77% to $56.38 after reporting earnings and revenue in line with estimates. The sporting retailer posted Q4 profit of $138.6 million, or $1.11 a share, up from $129.7 million, or $1.03 a share, a year earlier. Revenue rose to $1.95 billion, up from $1.81 billion a year ago. Same-store sales increased 7.3% last quarter, boosting profit alongside strong merchandise margins.
Douglas Dynamics Inc. (Nasdaq: PLOW) shares plowed ahead some 4% to $17.38 intraday following strong earnings and solid guidance. The snowplow maker, helped by an unusually snowy winter, posted Q4 earnings per share (EPS) of $0.13, $0.04 ahead of expectations. Revenue for the quarter came in at $73.6 million, handily beating estimates of $69.18 million.
J.C. Penney Company Inc. (NYSE: JCP) shares jumped more than 8% intraday on Tuesday to $9.28 after Citigroup upgraded the struggling retailer's stock to Buy from Neutral. Citi also upped its price to $11 from $7.50. JCP started 2014 on shaky ground and was one of the S&P 500's worst performers in 2013. But Penney's shares have climbed in recent weeks as investors begin to embrace its much-hyped turnaround story.
Joseph A. Bank Clothiers Inc. (Nasdaq: JOSB) shares rose 4% to $64.24 after agreeing to be bought by much larger rival Men's Warehouse Inc. (NYSE: MW). Men's Warehouse shares rose 4.8% to $57.12. The deal ends a months' long feud between the two companies, which haggled over price.
La Jolla Pharmaceutical Co. (Nasdaq: LJPC) shares surged more than 70% to a fresh 52-week high of $19.50 intraday after announcing positive top-line results from its phase 2 trial of GCS-100 for the treatment of chronic kidney disease. The randomized, placebo-controlled trial met its primary efficacy endpoint of a statically significant improvement in kidney function.
Madison Square Garden Co. (Nasdaq: MSG) shares moved up about 1% intraday to $57.81 after reports surfaced that Sean "Diddy" Combs has bid $200 million for MSG's Fuse cable TV channel.
Northwest Biotherapeutics Inc. (Nasdaq: NWBO) shares surged 30% to a 52-week high of $10.64 intraday Tuesday after announcing two special approvals in Germany for its lead immunotherapy product to treat brain cancer. The German reimbursement authority determined NWBO's DCVax-L treatment for glioma brain cancer is eligible for reimbursement from German health insurers. Additionally, German hospitals can now provide DCVax-L to patients with any type of glioma brain cancer, whether newly diagnosed or recurrent.
Ocean Power Technologies Inc. (Nasdaq: OPTT) shares surged some 50% intraday to a one-year high of $7.01. The renewable energy company, which specializes in the extraction of natural energy from ocean waves, rose on momentum from other clean energy stocks. OPTT will release fiscal Q3 results before the market opens Friday, March 14.
Senomyx Inc. (Nasdaq: SNMX) investors enjoyed a sweet day Tuesday, with shares rising 32% intraday to a 52-week high of $12.74. Behind the rise was word U.S. health regulators designated its Sweetmyx food flavoring safe. The ruling paves the way for customers, such as PepsiCo Inc. (NYSE: PEP), to add it in drinks to reduce the use of sugar or sugar substitutes without sacrificing taste.
SunLink Health Systems (NYSE: SSY) shares soared 40% to a 52-week high of $2.94 intraday Tuesday. Fueling gains was an announcement the company has adopted a new Shareholder Rights Plan intended to encourage fair treatment of shareholders should a takeover bid be made for SunLink. That sent speculation swirling that perhaps a takeover bid is imminent.
What you don't know about your brokerage business could hurt you. Here's why you shouldn't trust your broker.
Tags:
best stocks 2014
,
best stocks to buy
,
best stocks to buy 2014
,
best stocks to buy now
,
best stocks to buy right now
,
best stocks to buy today
,
best stocks to invest in
,
best stocks today
,
Best Tech Stocks to buy Today
,
Hot Stocks
,
hot stocks 2014
,
hot stocks list
,
hot stocks to watch
,
hot stocks today
,
stock to buy
,
Stocks to Buy
,
stocks to buy 2014
,
Stocks to Buy Now
,
stocks to buy today
,
stocks to invest in
,
stocks to watch
,
stocks to watch 2014
,
top stocks
The post Hot Stocks to Watch Today appeared first on Money Morning - Only the News You Can Profit From.