Groups will join forces to promote Latin American entrepreneurship and trade with Australia, Biz Latin Hub reports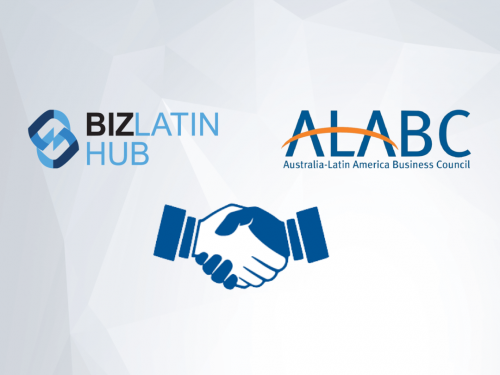 BOGOTA, Colombia - August 12, 2018 /MarketersMedia/ —
Biz Latin Hub Group and the Australian-Latin American Business Council (ALABC) announced a new partnership aimed at fostering entrepreneurship, business growth, and increased trade between Australia and Latin America. As the region's leading market entry and back-office service provider, Australian-owned Biz Latin Hub facilitates Entrepreneurship in Latin America for both domestic and foreign clients. For nearly 30 years, ALABC has helped build stronger commercial ties between Australia and Latin America through a wide variety of activities focusing on advocacy, education, and support.
In joining forces, the two groups will create new opportunities for entrepreneurs and established businesses to forge new relationships, trade, and succeed. Latin America has recently become one of the fastest-growing sources of international students for Australia, as those who Read More at the official Australian Trade and Investment Commission website will see. The new Biz Latin Hub-ALABC partnership therefore arrives at an especially opportune time, as many more young entrepreneurs and soon-to-be business leaders will be seeking ways to better connect Australia and Latin America in the near future.
"We're proud to announce that we're going to be partnering with ALABC to encourage and support entrepreneurship and trade between Australia and Latin America," said Biz Latin Hub co-founder and CEO Craig Dempsey. "Latin America is an exciting, fast-growing region to do business in, and we never tire of helping our clients get started or supporting them in their activities. As an Australian myself, I cannot think of a more promising goal than building stronger trade ties between Latin America and my native land. We're honored to be working alongside such an esteemed and successful group as ALABC in this effort."
Trade between Australia and the 20 countries that make up Latin America has been growing steadily for decades. A 2014 paper by Donald Kenyon and Pierre Van der Eng of the Australian National University reported a roughly fivefold increase in aggregate annual trade flows between 1990 and 2012 alone.
Biz Latin Hub was founded in Bogota four years ago to ease market entry and provide multilingual back-office support for both Latin American companies and entrepreneurs and businesses from elsewhere. Since then, the group has grown rapidly to include offices in ten Latin American countries and serve notable clients from Australia, the United Kingdom, and the United States. The newly announced partnership between Biz Latin Hub and ALABC will leverage the amply demonstrated strengths of both groups in a variety of productive ways.
About Biz Latin Hub:
As one of the fastest-growing Australian-owned companies in Latin America, Biz Latin Hub provides a full range of multilingual market entry and back office support services to domestic and international businesses and entrepreneurs.
Contact Info:
Name: Craig Dempsey
Email: contact@bizlatinhub.com
Organization: Biz Latin Hub
Address: Calle 98 No 22-64, Office 818 Bogota, Colombia
Phone: +57 320 440 5470
Source URL: https://marketersmedia.com/biz-latin-hub-australian-latin-american-business-council-form-new-partnership/392240
For more information, please visit https://www.bizlatinhub.com/bizlatinhub-alabc-partnership/
Source: MarketersMedia
Release ID: 392240