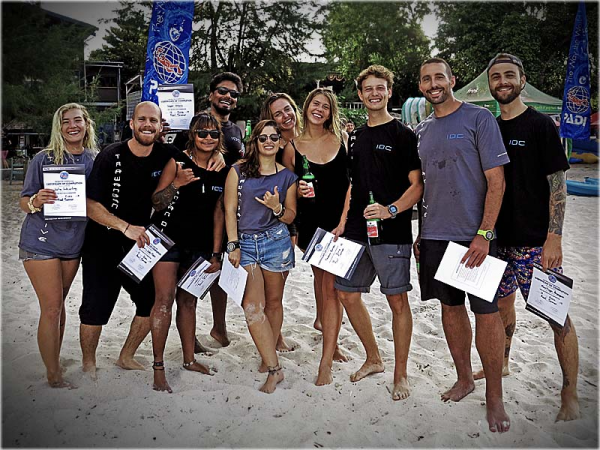 PADI IDC Gili Trawangan launches their Scuba Diving Instructor Development Course (IDC) at the Blue Marlin Dive, the largest dive company in Indonesia. With six locations across the country, they offer a variety of underwater experiences perfect for scuba diving trainees. What used to be a small dive shop is today an exciting PADI five-star IDC Dive Resort ideal for both new and seasoned divers.
The PADI Instructor Development Course is divided into two components; the Assistant Instructor (AI) course and the Open Water Scuba Instructor program (OWSI). Although the institute allows students to take these courses separately, they are typically combined in the Instructor Development Course. Both modules are endorsed broadly by IDC eLearning components. The course allows candidates to complete the theoretic part prior to the course so that the rest of the training schedule can focus on practical workshops.
IDC Holly's PADI Instructor Development Course (IDC) is entirely conducted by Industry Leading Multiple Award-Winning Platinum PADI Course Director Holly Macleod. Situated in the PADI IDC Gili Islands Indonesia, this course provides new Scuba Diving Instructors the essential Knowledge, Skills and most important of all the assurance to thrive in the Recreational Diving Industry.
"Holly is the most experienced and professional course director. She kindly explained everything and taught us a lot. She was so friendly helped our stay and activities during the covid-19. We had a very good time during IDC. The section and workshop were perfectly managed, and we all passed our IE without any trouble", says MENG Chao, a trainee from China.
"How can one express a review in a few words. I suppose it will suffice to say that Holly is the best in every sense. She knows diving and the science behind diving, she knows how to teach, and she knows what PADI wants Instructors to know. All this was done with positivity and a lovely smile. I was, unfortunately (or fortunately) in one of the longest IDC batches because of the COVID 19 Pandemic. Justin and Holly's commitment all through was commendable and will always be remembered", says Raj K, another grateful trainee.
All of PAD IDC Indonesia's dive staff have tons of experience and knowledge of the underwater world around the Gili islands. The team has spent the last eighteen years teaching PADI Courses and Programs in multiple global diving destinations, including Honduras, Thailand, Australia, UK, Malaysia, Philippines, Indonesia, Singapore.
For more information, please visit: https://www.bluemarlindive.com
Media Contact
Company Name: IDC Holly
Contact Person: Holly Macleod
Email: Send Email
Country: Indonesia
Website: http://www.giliidc.com