The famous jeweler deals directly with diamond suppliers from India and Dubai, to get quantities of loose diamonds for the best price possible, and maintains over 120 well-trained and professional diamond setters, product rendering, and overall craftsmanship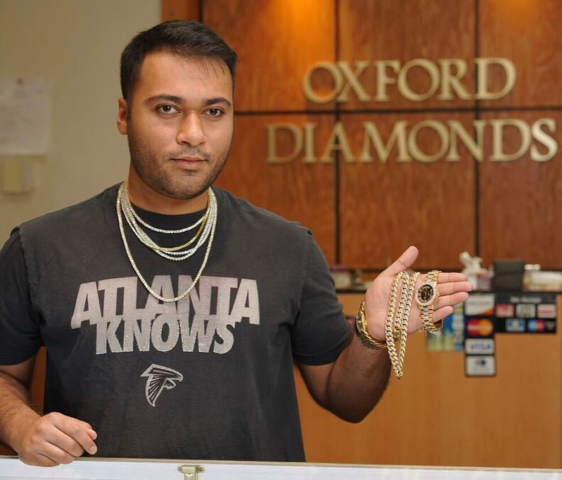 Shafiq Ali aka Sunythejeweler, founder, and owner of Oxford Diamonds, is the most reliable diamond plug for NFL and NBA players. The experienced jeweler has been catering to the needs of diamond lovers all over the world, with a clientele list that consists of celebrities and overseas athletes.
From the biggest names in the sports industry down to famous YouTube creators, jewelry lovers around the globe are lining up to get their unique pieces designed and created by the master celebrity jeweler. The brand was responsible for producing half of the Rare diamond Pokémon Diamond Case (a GS 10 Pristine, golden first-edition Charizard card) for Logan Paul. And also went bigger and better by making another Pokémon Diamond pendant with over 50 carats of diamonds, adorning the social media star and former boxer with the world's most expensive Pokemon trading card—a Pikachu Illustrator valued at a staggering $5,275,000.
Currently, the jewelry industry is flooded with dishonest jewelers who make and sell fashion costume jewelry - using fake materials such as CVD stones - also referred to as lab-grown diamonds. The CVD (Chemical Vapour Deposition) process, involves the breaking down of natural gas like methane into carbon atoms that amass around a diamond starter to form a new diamond, driving down production costs to make cheap and inferior products. 
Driven by honesty, as well as an artistic desire to push the boundaries and create never before done diamond pieces, SunyTheJeweler deals directly with diamond suppliers from India and Dubai to get quantities of Loose diamonds for the best price possible. The professional diamond dealer owns a diamond factory right in the heart of Surat India, with over 120 well-trained and professional diamond setters, guaranteeing stellar product rendering and overall craftsmanship.
Relying solely on trust and excellence, SunyTheJeweler has built a strong clientele of over 140,000 clients and is expanding its service to reach more diamond lovers across the world. The seasoned jeweler says he places premium value on the strong relationships he has developed with his customers, and prices his items to meet everyone's budget.
"You can't take anything with you when you leave this world," says Shafiq Ali, founder of SunyTheJeweler. "I've never been a greedy individual. I've put food on the table for hundreds of people who have in return tried to steal from me. That's a big reason why my items are all very price-pointed to meet everyone's budget. I'd rather have a LIFE LONG customer relationship than make a one-time big profit on them. I could care less about money."
To learn more about SunyTheJeweler, please visit him on Instagram @Sunythejeweler, or reach out to Shafiq Ali via the contact info below.
Media Contact
Company Name: Espy Agency
Contact Person: Brandon Gill
Email: Send Email
City: Atlanta
State: GA
Country: United States
Website: https://espyagency.com