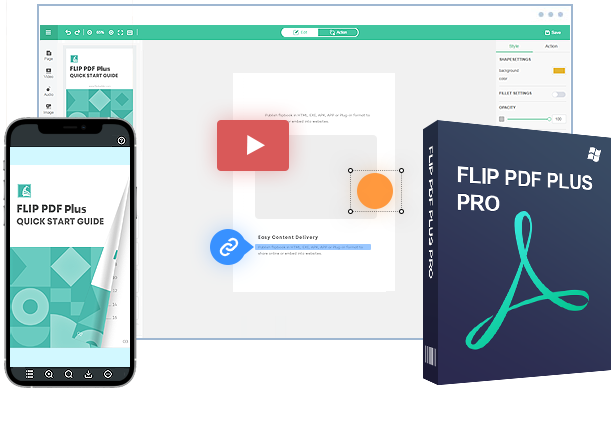 digital booklet maker
Users can design booklets and track user behavior using Google Analytics.
FlipBuilder has unveiled a new digital booklet maker named Flip PDF Plus Pro to help users create and share booklet content on various subjects. Users can use the software to make annual reports, event guides, instructions, school projects, and product marketing tools. They can design compelling booklets with beautiful graphics, videos, images, animations, music, and other media elements. Digital booklets make effective advertising solutions for businesses. They provide brief but immersive content that attracts the targeted audience.
The digital booklet maker lets users leave lasting positive impressions about their brands. They can use the interactive elements from FlipBuilder to make the publications stand out. With custom brand logos, colors, and images, they can tell brand stories or market their product line or special events to the audience. Flip PDF Plus Pro also has tools to embellish the design and layout of the booklets, making them appealing to the eye.
"Our digital booklet maker allows you to design flexible, trackable booklets," says Ken Glenn, the CMO of FlipBuilder. "With the Google Analytics feature, you can track audience behavior and make changes to content in real-time to ensure that consumers have relevant information. Tracking your publications is the best way to ensure people have content that fits their needs."
Digital booklets aim to impress readers, and that's why it's pivotal that they stand out. Flip PDF Plus Pro gives users the creative freedom to produce stunning publications that grab the attention of the audience. The digital booklet maker gives users the best technology to enhance their appeal. Multiple distribution options, professional templates and themes, multi-screen compatibility, and cloud hosting are just a few of the many features of Flip PDF Plus Pro that make the booklets very responsive.
Flip PDF Plus Pro allows creators to produce engaging, customized booklets with relevant details that people are looking for. Readers visit websites looking for something unique. By offering content tailored to their unique needs, like booklets, they will find whatever they need much quicker. The best part is that Flip PDF Plus Pro supports different languages, allowing users to reach global readers in their native languages. With their increased shareability, it will be easy to communicate with a broader audience base and send them towards the lead generation form or website with a CTA.
For further news about the digital booklet maker, visit FlipBuilder.
About FlipBuilder
FlipBuilder has helped many businesses, publishers, and marketers communicate their brands and products to people. The company allows them to create and use their publications to expand their markets.


Video Link: https://www.youtube.com/embed/sFxLq23m0RA
Media Contact
Company Name: FlipBuilder.com
Contact Person: Customer Service
Email: Send Email
Phone: +86 020-61972665
Country: China
Website: https://www.flipbuilder.com/