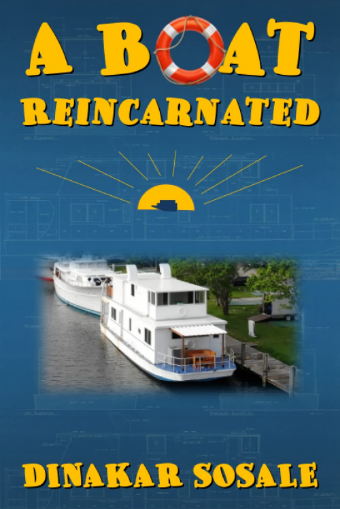 Dinakar Sosale, an immigrant to the United States, has released a book on an incredible houseboat transformation experience on Amazon. The new novel 'A Boat Reincarnated' is about Kris and his family, who are renovating a houseboat, the book offers a wonderful blend of family drama, current events, and comedy. Those who like these should give this book a try.
The semi-fictional work is replete with humorous tales about Kris's family and other people, such as the hired crew assisting him in this houseboat restoration project. According to the narrative, Kris purchases a houseboat for remodeling without realizing the consequences it could entail. Across hundreds of pages, the technical aspects of the houseboat reincarnation combine captivating storytelling to illuminate a variety of themes, such as survival and renovation during turbulent times, the extreme polarization of Amaerican politics, and the post-election drama as the family works on the boat. 
The protagonists' lives will never be the same again as a result of the events that transpire during the renovation of the boat. This work of literature described as a "delightful and entertaining read" has several life lessons for readers.
Dinakar Sosale is an Indian IT/Telecom Engineer who traveled to the United States to seek higher education in the 1990s. The author appreciates life's little pleasures. He delights in "me time" on weekends and frequents bookshops and coffee shops. His love of architecture motivated him to redesign the houseboat he wrote about. He also enjoys traveling to rural places.
Dinakar portrayed himself as Kris in the novel, satisfying his real-life desire to own a vintage houseboat and write a novel. He has always desired to become a published author, thus this is a realization of a lifelong ambition. This book will have adventurers, sailing enthusiasts, immigrants, and essentially everyone who enjoys a fantastic narrative flipping the pages. This book will teach readers as much as a snapshot of a life can.
A Boat Reincarnated by Dinakar Sosale promises to be a one-of-a-kind reading experience and is available on Amazon in both digital and paperback formats. To learn more about the book, please visit http://www.figureheadmedia.com, Dinakar's website. Check out the houseboat rental website at http://www.wrightonwater.com for further information on the amazing houseboat featured in the book.
Media Contact
Company Name: Figure Head Media
Contact Person: Dinakar Sosale
Email: Send Email
Phone: +1 (305) 547-9909
Country: United States
Website: https://www.figureheadmedia.com/