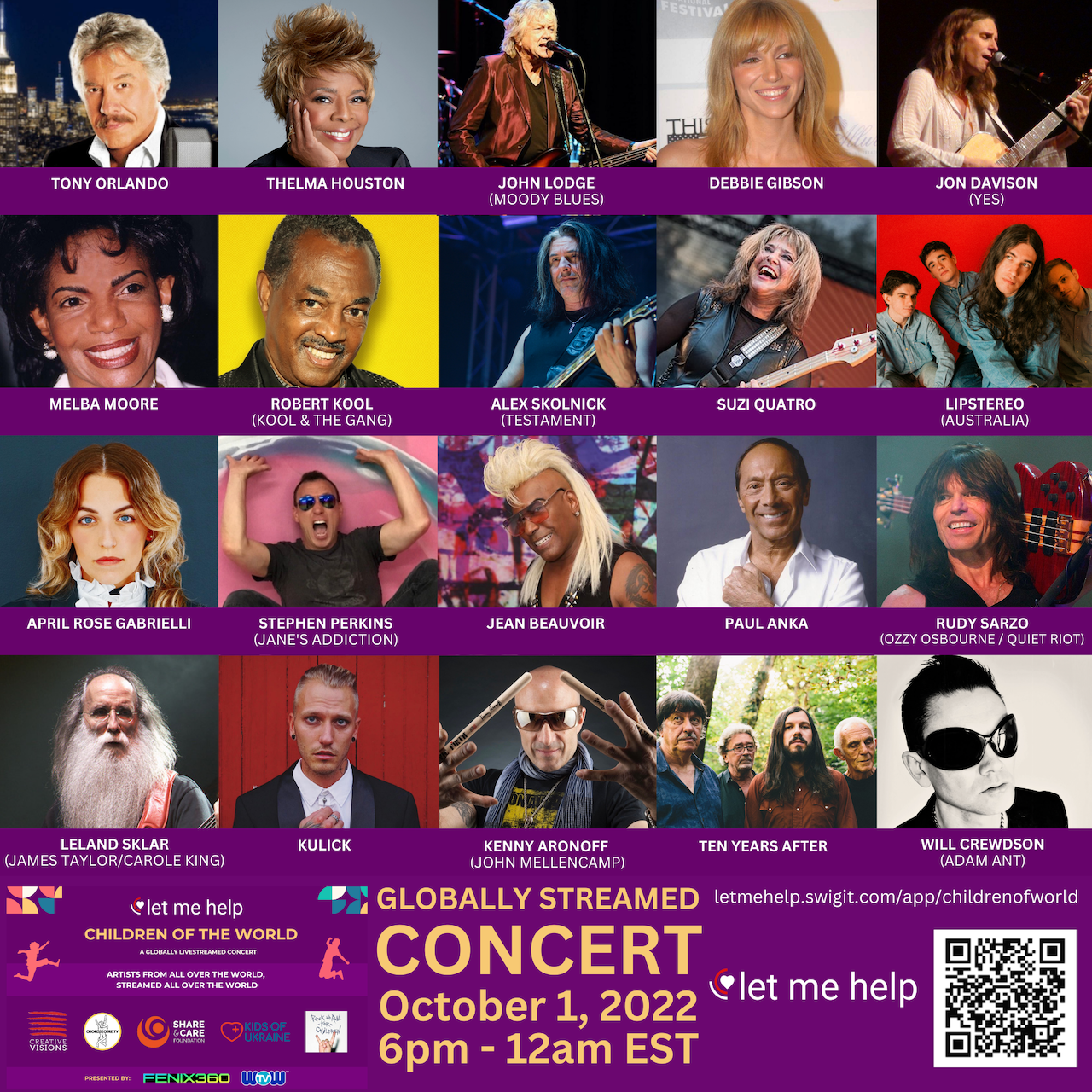 Join Fenix360 and the "Let Me Help, Inc" foundation on October 1, 2022 for charity partners, "Creative Visions", "Chords2Cure.TV", "Share & Care Foundation", "Kids of Ukraine" and "Rock N Roll For Children" as they celebrate a rockstar benefit in support of "The Children of The World", a Globally Live-streamed Concert. The concert featuring some of the biggest legends and icons of the music and entertainment industry. The concert is presented by FENIX360 and WOW TV and will be hosted by influencer and philanthropist, John "SohoJohnny" Pasquale. Don't miss this 6 hour (6pm-12am EST) extravaganza. 
The biggest stars all over the planet will be performing and appearing and interviewing to show their support for the children of the world living in poverty and hunger and conditions we can't even imagine. Some of those included are: legends Paul Anka, Tony Orlando, Leland Sklar (Toto), Kenny Aronoff (Smashing  Pumpkins), Alex Skolnick (Testament), Ten Years After,  John Lodge (Moody Blues), Jon Davidson (YES), Bonfire, Mickey Burns (Profiles), Jean Beauvoir (Plasmatics), Kevin Simm (Wet Wet Wet), Tony Hadley (Spandau Ballet), Will Crewdson (Adam Ant), Melba Moore, Robert Kool (Kool and the Gang), Tony Moore (Iron Maiden), Stephen Devassy, Clint Holmes, Colosseum, Convergence, Revolushn, Linda Gambino, Will Nunziata, Alien Eyes, Stephen Perkins (Jane's Addiction), Leon (Leon and the Peoples), Thelma Houston, Suzi Quatro, Debbie Gibson, Hemma Sardesai (Bollywood superstar), Shila (The Voice, China), Reckless in Vegas, Tony Mercedes' (Grammy winning producer), John Fusco, and David Osmond, along with rising superstars, Daisy Jopling, Rocky Kramer, Kylie Marshall, KD da Kid, 40 Flow, Stacey Toy, YNG Zuck, Wicker Twinz, Bria Lee, and Arizona Lindsay… Just to mention a few.
Let Me Help, Inc  was founded by John "SohoJohnny" Pasquale after his mom passed from Covid. The mission of the organization is "to strive to help people whose lives and livelihoods have been affected in someway by an unforeseen circumstance or illness by raising money through the celebration of music, laughter and dance." In the words of SohoJohnny "we wish to spread music, joy and illumination to the human soul and spirit while helping others." Together we hope is to raise money and awareness for the children… our future.
The link to the concert where ticket may be bought and donations made. On the evening of October 1, 2022 just one click to watch the show:
https://letmehelp.swigit.com/app/childrenofworld
The official website for Let Me Help, Inc may be found at:
Media Contact
Company Name: World Star PR
Contact Person: Jimmy Star
Email: Send Email
Phone: 631-506-6600
Country: United States
Website: https://www.facebook.com/WorldStarPR/