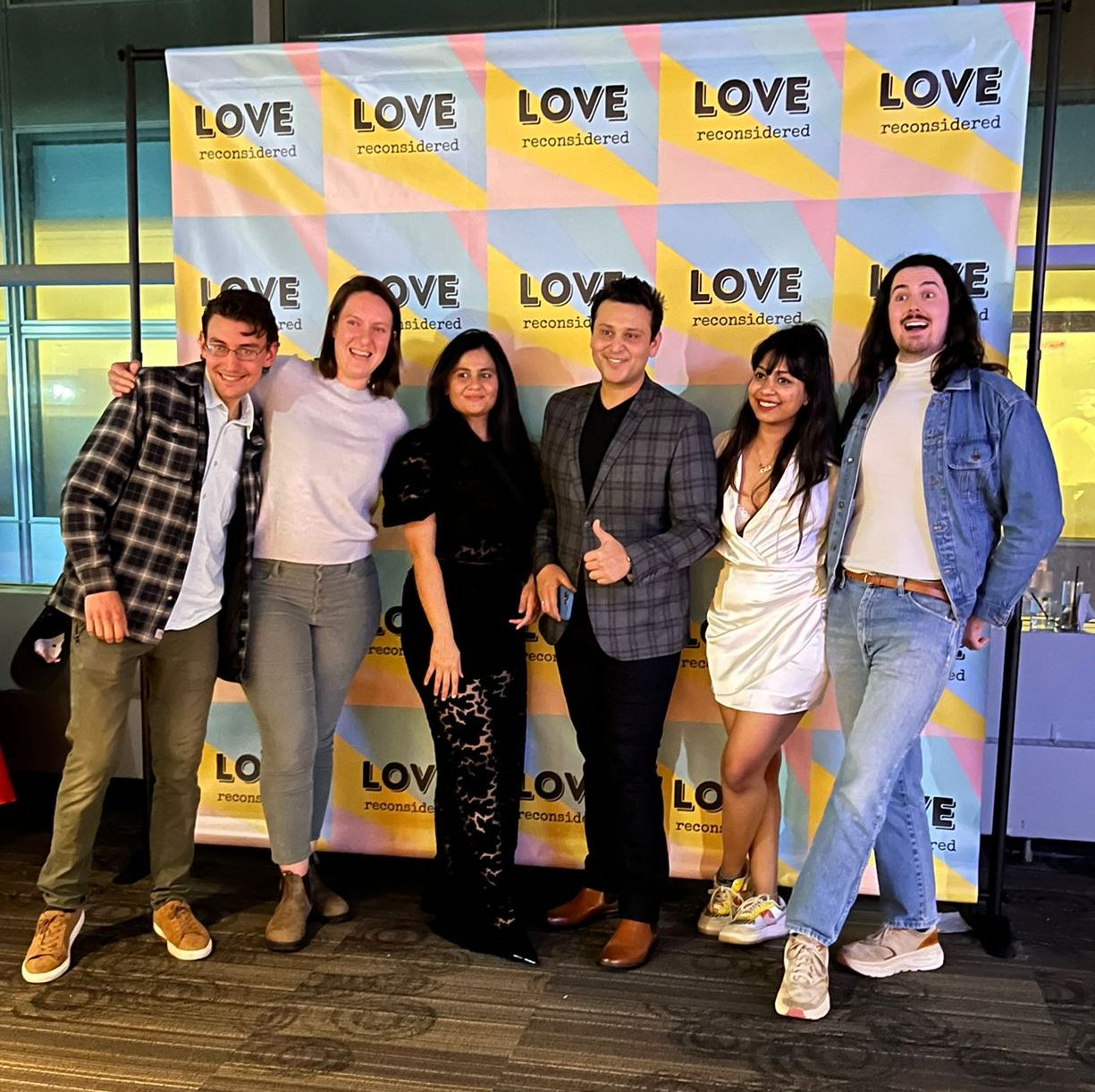 From left: Key Grip Alessandro Imperiale, Steadicam Meagan Masur, Art Director Neera Zaveri, Line Producer Piyush Thakur, 1st Art Director Akshata Hnnavar and Production Designer Kivlan King
'Love…Reconsidered', premiered on 3rd October at Regal Cinema in Battery Park City in New York, goes full house.
'Love…Reconsidered' which premiered on 3rd October at Regal Cinema in Battery Park City in New York has been a major assignment for India-born Piyush Thakur as the line producer.

Directed by Carole Ray Hartsell, and scripted by Arielle Haller-Silverstone, "Love … Reconsidered" is an indie rom-com featuring Sophie Von Haselberhg who plays the character of Ruby, a 30-year-old New Yorker, whose life is transformed after a chance meeting with a wealthy store owner, featuring Anthony DeVito.

In Ruby's world, love isn't ignored, it's reconsidered.

The film Director Carol Hartsell said that Piyush is an extraordinary multimedia visual artist and producer who helped in the furtherance of "our artistic vision" in the making of 'Love…Reconsidered", and shot this movie in a 16-days gruelling schedule.

The movie was received well by everyone at the screening in a 200-plus capacity cinema theatre which was full to the brim.

The film also stars Colton Haynes, Javier Muñoz, Jill Kargman and Marisa Ryan. Rick Younger, Judy Gold, Elaine Bromka, Luke Gulbranson, Jon Lemmon, Anthony Norman and Amy Pham also join the cast. along with Katina Corrao and Anthony DeVito.
Piyush has to his credit 30 short films and 10 Feature films two of which are Emmy Award Winning shows "Venice Season 6" & "Beacon Hill Season 2" directed by Crystal Chappell and Hillary B Smith, besides directing ad producing, music videos, tv commercials, handled fashion and commercial photography assignments.
Media Contact
Company Name: CorePR
Contact Person: CJ SINGH
Email: Send Email
Phone: 09316133924
Address:PHD Chamber Sector 31A
City: Chandigarh
Country: India
Website: www.corepr.co.in