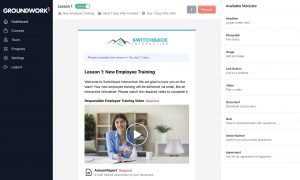 Bloomington, United States – Groundwork1 developed highly specialized, innovative software that makes employee training efficient and simple for companies to track. Organizations, non-profits, and HR departments can get agreements signed, training materials tracked, and quizzes all in one place.
Groundwork1 has an employee training app that provides trackable training materials that are sent to new employees' emails to remind them to review each module or sign relevant agreements. This way, they're less likely to miss deadlines and HR departments are better able to keep track of employee progress. This training software was designed to make the employee onboarding process as efficient and simple as possible for both employees and companies.
How Groundwork1 Software Works
Companies could take several months to develop training materials that have all the necessary information for new employees to learn about the standard operating procedures. There are many training tools out there that don't make the process very simple. Groundwork1 has a user-friendly interface that makes it easy for HR teams to drag and drop new elements into their training programs.
The training materials are designed like newsletters with helpful links, videos, and quizzes that can be added by simply dragging and dropping. Instead of taking several weeks and months to create helpful employee training materials, HR teams can do it in  a matter of minutes.
HR teams can also track the progress of each individual employee by seeing which lessons they complete, how they score on quizzes, and what deadlines they miss. This makes it easier to support employees who may be struggling.
Groundwork1 has features that make it easy for HR teams to send reminders to employees about completing specific tasks like taking quizzes, signing agreements, or reviewing specific lessons. Employees can receive these email reminders to help them keep track of deadlines and get reminders to help them avoid missing important parts of the training process.
Groundwork1 software is an excellent tool for onboarding new employees and it makes the lives of training managers and HR professionals much easier. They can create training materials, onboard new employees, track their progress, assess their knowledge, and so much more all in one platform.
What Groundwork1 Can Be Used For
Groundwork1 software can be used for corporate e-learning and not just onboarding. It's an ideal solution for managers who want to upskill their team and introduce new procedures/technology to the company.
The software is great for:
Role-specific training
Systems or technology training
HR policies and procedures training
Employee onboarding checklists
New employee training
Companies will find this software to be immensely useful in their management processes because of its ease of use and effectiveness. Even non-profit organizations can benefit from this and use it as a learning management system to train their volunteers.
LMS for non-profits is great because they have volunteers who come and go quickly, they can review the training materials in their own email inboxes. The lessons include file downloads, videos, images, and quizzes that can help non-profits deliver seamless training to their new team members.
Groundwork1 has helpful features including:
Quizzes
Digital signatures
Built-in videos
Secure downloads
Text & images
Action buttons
Create automated training programs that are effective and trackable to help your team have the skills they need to do the best work possible.
About Groundwork1
Groundwork1 is a learning management system and employee onboarding software designed to make the training process easier and more efficient for companies and non-profit organizations.
Source: https://thenewsfront.com/groundwork1-launches-unique–innovative-employee-training-software/
About Groundwork1
Groundwork1 is a simple learning management system and employee onboarding tool that makes training easier to access, and your team members are more likely to complete it.
Contact Groundwork1
7900 International Drive Suite 300 - 7065
Bloomington
MN 55425
United States
651-243-1310‬
Website: https://groundwork1.com/