Each street lamp has its suitable place for lighting, such as: street lamp trial and city main road, school road, factory road, etc.;  Courtyard lights are suitable for residential areas, schools, harbors, river lighting, etc.  High mast light is suitable for large intersection, viaduct confluence, square, parking lot, beach, dock and other lighting range demand large places.  Briefly know the characteristics of the high mast lamp, and according to the lighting requirements of the installation site for you to provide design solutions.  The high mast lamp refers to the street lamp with a height of 16-40 meters. It can be cut into 2 or 3 sections according to the height requirement for easy installation and transportation.  Light source appliances can be combined with 6-24 400-1000W power projection lamps or floodlights, the lighting range can reach a radius of 60 meters.  
In addition, FUJIAN CAS-CERAMIC OPTOELECTRONICS TECHNOLOGY CO.,LTD also reminds the majority of customers to buy lights, according to their own needs to consider whether to install automatic or manual lifting configuration for the high mast lamp, so as to make easy maintenance in the future use.  A lightning rod with a length of 1-1.5 meters should be installed on the top of the high mast light to avoid lightning strikes in a thunderstorm due to its unique height.  After purchasing the lamp, the embedded parts of the lamp pole can be poured in advance, which is convenient for the later installation and use of the high mast lamp to save time.  The cost and service life of the high mast lamp determines that the high mast lamp pole needs to be hot-dip galvanized, so as to effectively prolong the service life of the high mast lamp, reduce the impact caused by corrosion and scratch.  High mast lamp is generally used in parks, gas stations, factories and other places where tall buildings are required to illuminate.  
LED high mast lamp is used for highway, roads and other places of lighting.  Beautiful shape, with a strong decorative.  Large lighting area, good lighting effect, centralized light source, uniform illumination, small glare, easy to control, maintenance.  Lighting control has hand control, light control, time control and microcomputer control.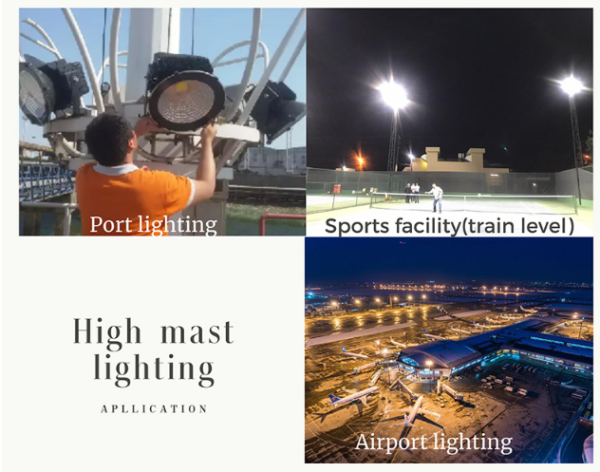 Material 
The lamp pole is made of high quality Q235 steel plate, molded into a pyramid plug type rigid rod, and treated with hot dip galvanizing and anticorrosion.  
The lamp tray frame is made of high quality, hot dip galvanized treatment. High mast lamp is suitable for municipal engineering, highway, overpass, parking lot, stadium, goods yard, port, airport and public leisure square and other outdoor lighting projects. 
Media Contact
Company Name: Fujian CAS-Ceramic Optoelectronics Technology Co., Ltd.
Email: Send Email
Phone: +86-0591-62097869
Address:8 High-tech Avenue
City: 350108 Minhou
State: Fuzhou
Country: China
Website: https://www.kcobled.com/