LAREDO, TX - Sep 27, 2022 - Scattered amidst thousands of desperate migrants illegally crossing the US southern border in search of a better life are lawless "coyotes" smuggling in weapons, illegal drugs, and trafficking women and children. Border Patrol agents are overwhelmed, while the U.S. government refuses to help. In fact, they seem to support open borders. But when the violence reaches a former Army Green Beret's doorstep, one "private American" decides to take matters into his own hands.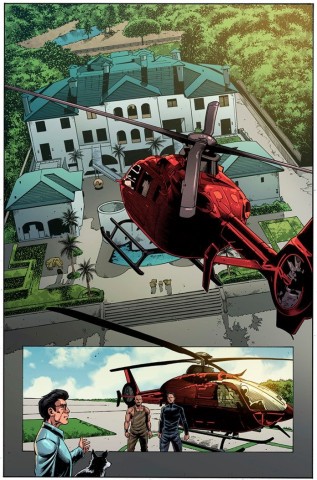 The story by comicbook legend Mike Baron is fiction, but it's based on a very real crisis. With no one able to avenge the poor and desperate immigrants being taken advantage of by vile opportunists, a critical real-life situation is taking place that the American press seems unwilling to report.
Controversial ideas fly like bullets in this brisk action-adventure comic, and Baron is hyper-aware of the virtue-signaling that trivializes today's pop culture, where Marvel's the Punisher has put away his guns and "scary skull" emblem, and Captain America has even questioned his loyalty to America.
"Nexus and Punisher readers know I have always ripped stories from the headlines," says Mike Baron. "My stories have always been heterodox. You'll find no speeches or screeds. Private American is pure entertainment that begins with a bang."
Like his previous graphic novel, Thin Blue Line which tackled police corruption and the "defund the police" movement, Private American tackles another pressing social concern through a compelling narrative around the dangers of open borders, resulting in an explosive, groundbreaking tale that will likely increase any reader's empathy for immigrants seeking better lives as well as the shorthanded agents who are under-equipped to preserve national security at the border.
This book is entertaining first and foremost, amusing and charming in its refusal to dismiss the cathartic nature of retributive violence and is unsparingly filled with violent action tropes typical of vigilante justice tales. But there's another aspect to the book, a surprisingly brooding examination of the dangers of open borders, as seen by a man on fire who won't back down.
It's always intensely gratifying when the bad guys get what's coming to them, and this story of vigilante justice is savage, smart. and poignant all at the same time. It's an old-school, violent and gritty, genre comic elevated to political theater by the deft writing of two-time Eisner-winner Mike Baron, but what really makes this story come alive is the work of comics pro Richard Bonk, who's most recent collaboration with Baron is an all-new Nexus story from Dark Horse Comics being solicited this month.
While it may never be picked up by a major comics publisher due to its unapologetic take on illegal immigration, Private American is a stone cold thriller of fierce, resounding vengeance, illustrated with elegance and force, and no comic has ever been more effective at shining a light on the dangers of open borders.
Learn more at theprivateamerican.com and the Press assets are available here: https://bit.ly/3S4LcyO
Media Contact
Company Name: BIG Studios
Contact Person: Chris Braly
Email: Send Email
Phone: 615-583-9536
Country: United States
Website: https://www.theprivateamerican.com