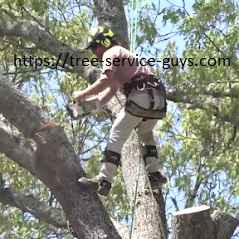 It's a simple fact that trees are vital to the planet. They give us oxygen, store carbon, stabilize the soil, provide shade, support life and much more besides. It is also a fact that trees need maintenance and care – and sometimes it's necessary to remove a tree from its environment completely.
Tree Service Guys is a company that specializes in handling difficult tree removals, and they welcome any job – big and small, residential or commercial. The Tree Service Guys team understand how vital it is to hire professional arborists to remove trees when needed, and they work tirelessly to ensure each customer the results they need. What's more, they can handle other tree-related tasks like trimming, bracing and stump grinding. Call the Tree Service Guys team today for a free no-obligation consultation!
The importance of professional tree removal services
Trees are precious and should be properly respected, maintained and cared for. However, certain situations mean that a tree may have to be removed from a property. For example, a tree might have been damaged in a storm rendering it no longer safe to keep, or it might have contracted a dangerous disease that is easily spread to other trees, or it might be growing too close to surrounding structures.
This is where professional tree removal services are so important. The expert arborists at Tree Service Guys can remove trees that have become too dangerous to keep around. They will begin with an assessment of your landscape and personal property to create a solid plan for the tree's safe removal. The removal process will then closely adhere to the Tree Care Industry Association's (TCIA) safety practices, avoiding damage to landscaping as much as possible. Once the removal has been carried out, the team will then fill with topsoil (if that is your wish) and ensure the job site is cleaned to its usual standards.
Why choose Tree Service Guys?
As a leading tree service company based in Fort Worth, TX, Tree Service Guys is on a mission to provide a flawless service to satisfy every client's need. The company is very highly rated on Google, which only goes to show that this diligent approach is working!
The experts at Tree Service Guys strive to provide excellence and integrity in all their work, as they believe their customers deserve the best service possible and don't believe in extortionate rates or hidden fees. Furthermore, you know you're in safe hands with the team because they have years of industry expertise and are fully insured. Some of the services Tree Service Guys offers are:
Tree removal
Emergency tree services
Tree pruning and trimming
Tree cabling and bracing
Stump removal and grinding
Contact the team today to book your free consultation.
More information
Tree Service Guys has been offering specialist tree services in Fort Worth Texas for over 10 years. You can find out more on the official website at https://tree-service-guys.com.
Source: https://thenewsfront.com/tree-service-guys-leading-tree-specialists-explain-why-tree-removal-is-a-vital-service/
About Tree Service Guys
We are the trusted Fort Worth tree services company taking on many commercial projects for parks, apartments & schools. However the bulk of our business is still taking care of our beloved community in Fort Worth Texas and Tarrant County.
Contact Tree Service Guys

Fort Worth
TX 76111
United States
(817) 380-6586
Website: https://tree-service-guys.com