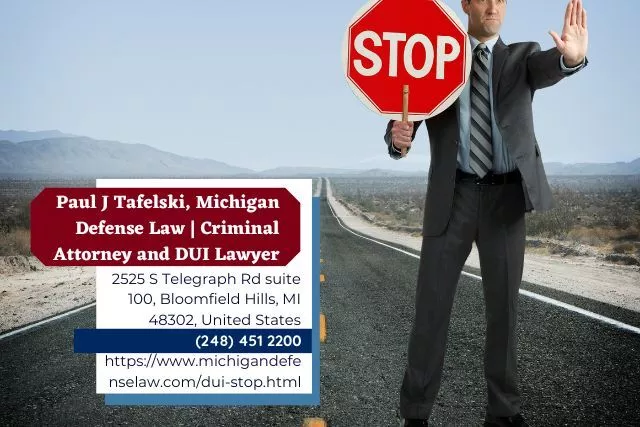 Oakland County DUI lawyer Paul J. Tafelski (https://www.michigandefenselaw.com/dui-stop.html) releases a new blog post explaining DUI stops and how aggressive driving can lead to a DUI Charge in Michigan. The lawyer mentions that aggressive driving is very dangerous. Oftentimes, aggressive driving can also turn into a DUI charge. 
"More than 600 drivers recently were pulled over by Michigan State Police troopers in the first week of a month-long crackdown on aggressive driving in Detroit, according to the Detroit Free Press. Motorists were stopped for speeding, tailgating, changing lanes unsafely, and texting while driving," says the Oakland County DUI lawyer. 
The lawyer explains that if a police officer stops a person for any reason, the person may be in a vulnerable position. An initial stop can also lead to other charges. Aggressive driving often leads to a DUI charge because the police may think that someone is drunk driving when they drive recklessly. 
Attorney Paul J. Tafelski says that when a stop happens, a police officer is trained to observe the condition of the driver and look for signs of drunk driving. If the officer smells alcohol on a person's breath, sees an open alcohol container, or hears slurred speech, the person may be detained. 
In the article, the lawyer says that the police officer may ask the person if they're drinking during the stop. If the person answers "Yes", the police officer may have sufficient cause to conduct a search or DUI/OWI investigation. 
According to the defense lawyer, "The officer may ask you to perform a series of field sobriety tests. These are designed to indicate physical signs of intoxication. Or you may be asked to submit to a preliminary breath test. If you decline to take the preliminary breath test, you will likely be fined and charged with a civil infraction." 
Furthermore, if the prosecutor's case is based on what happened during the illegal DUI stop, a skilled DUI lawyer may be able to bring a motion to suppress the evidence obtained during the stop. When there is a piece of evidence that was obtained during an unconstitutional stop, the court must suppress it under the fruit of the poisonous tree doctrine. 
It is possible to seek a dismissal of the case if all the evidence was obtained from an unconstitutional stop. The prosecutor is always expected to establish a case beyond a reasonable doubt. If the vehicle stop is bad, the case will be dismissed because all evidence obtained after the bad stop is suppressed.
Lastly, attorney Paul Tafelski emphasizes the importance of having a skilled lawyer when facing charges of operating while under the influence of a drug or Drug DUI. Having an experienced attorney may be able to help the defendant understand their rights and protect their freedom.
About Michigan Defense Law
Michigan Defense Law is a firm that takes the presumption of innocence very seriously. Every client deserves competent legal representation. No matter if someone is facing a felony or misdemeanor charge, the lawyers at Michigan Defense Law will work hard to vigorously defend the client and achieve the best outcome for them. Call Michigan Defense Law today at (248) 451 2200 to schedule a consultation.
Source: https://thenewsfront.com/oakland-county-dui-lawyer-paul-j-tafelski-explains-dui-stops-and-how-aggressive-driving-can-lead-to-a-dui-charge/
About Paul J. Tafelski, Michigan Defense Law | Criminal Attorney and DUI Lawyer
With over 25 years of combined experience in criminal defense law, the talented legal team of Paul Tafelski and David Goukassian at Michigan Defense Law is devoted to the defense of good people who have found themselves in difficult circumstances.
At Michigan Defense Law, we take the presumption of innocence seriously and fully believe that every client is due a skilled legal defense. Whether you have been accused of a misdemeanor or are faced with a felony conviction, we are committed to diligently defending you and achieving the best possible outcome on your behalf.
Contact Paul J. Tafelski, Michigan Defense Law | Criminal Attorney and DUI Lawyer
2525 S Telegraph Rd suite 100
Bloomfield Hills
MI 48302
United States
(248) 451-2200
Website: https://www.michigandefenselaw.com/