The medieval-themed production company is on a mission to help tell new stories and encourage people to tell their own
In recent years, the world has gone through an extraordinarily dark season. The COVID-19 pandemic, racial discrimination, death, and wars to name a few, have darkened the horizon of many lives and wreaked uncommon havoc across the globe. In times of chaos such as was seen during the pandemic, people stopped living and merely existed- waking up each day to new discouragement each time they checked their phones or turned on the news.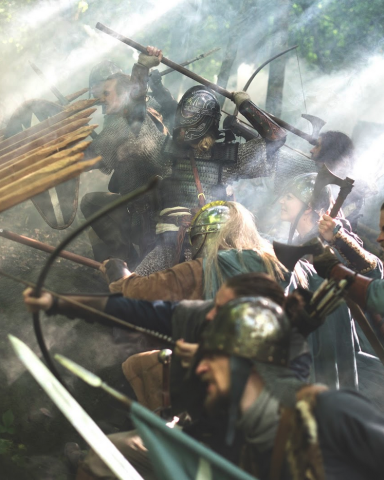 However, life has more to offer than just numbing routine and mere survival. There is beauty to be seen in life and art. Music and storytelling have proven to be man's natural recourse and source of solace throughout perilous times. This fact is established by the rise of Netflix subscriptions which were recorded at the heights of the pandemic. Fell & Fair Productions is a company that seems to understand at a deep level the innate need for hope, joy, and inspiration during -and after- these hard times.
Fell & Fair Productions is a company that utilizes film, photography, costume creation, and live events to bring a ray of sunshine to a recovering world. The refreshing medieval and fantasy stories, as well as the awe-inspiring skill of the company's talented and loyal staff, has made a name for itself on social media as the quality of its productions is on a par with Hollywood content.  The company has been a source of joy and inspiration to its hundreds of thousands of followers worldwide by telling beautiful stories, providing uplifting comedy, and forging a community bound by a common passion.
From comedy sketches to epic short films, Fell & Fair has gone on to work with renowned brands such as Lego, Audible, and Assassin's Creed. Currently, the production company seeks to partner with notable and upcoming brands that share the same values, aesthetics, and desire for a good story as Fell & Fair does. Fans of the medieval fantasy genre of books, movies and games are encouraged to join Fell & Fair on its journey, soaking up the uplifting content and bonding with others over shared passion.
For more information, please visit www.fellandfair.com or @fellandfair on Instagram, TikTok, and YouTube.
About Fell & Fair Productions
Zan Campbell is the CEO of Fell & Fair Productions. Zan is a retired U.S. Navy helicopter pilot who started Fell & Fair in 2015 with the goal of bringing his love for living history, fantasy, adventure, and craftsmanship together to build a long-lasting community for individuals who share the same passions.
Media Contact
Company Name: Fell & Fair Productions
Contact Person: Zan Campbell
Email: Send Email
Phone: 8644029576
Country: United States
Website: www.shop.fellandfair.com