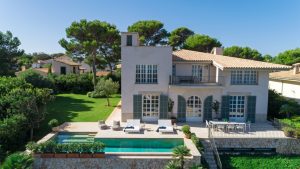 Mallorca, Spain – Insider Villas was created by two global travelers and hoteliers with experience operating and opening luxury hotels, including such brands as the Ritz-Carlton, Raffles Seychelles, and The Norman Tel Aviv, who want to share their love of travel and culture, as well as their insider knowledge with holidaymakers searching for an unforgettable experience.
Catering to the needs of the most sophisticated guests, Insider Villas has now launched an impeccable collection of over 160 villas and estates in Mallorca, Ibiza, Italy, Seychelles, Croatia, and beyond.
These villas feature the company's specialist concierge service that ensures you get the most out of your vacation and can help you arrange memorable excursions and helicopter, private jet and yacht rentals.
In each of Insider Villas' beautiful destinations, you will have the option to immerse yourself in unique experiences and can find everything from luxury villas with impressive sea views and private pools for that ultimate family holiday to relaxing retreats where you can escape and unwind in a secluded countryside estate.
Hand-Picked Selection of Luxury Villas
When you take a villa holiday, you not only want to explore but also be pampered, and that's why Insider Villas has personally hand-picked properties to ensure they are luxurious in every way – whether you are looking for a romantic getaway, a family holiday, picture-perfect sunsets, or active sport fun.
Insider Villas' Mallorca villa rentals allow you to live in an exclusive palatial villa amidst the beautiful Balearic Islands and immerse yourself in the diverse Spanish culture for an authentic holiday experience.
You can choose from a list of bespoke itineraries that allow you to explore the breathtaking island at your own pace. From learning how to make a traditional dish, perfume making, and hiking to trekking on one of the oldest olive groves, Insider Villas' partner network handles even the most special requests.
Attention to Detail
By opting for one of Insider Villas' luxury villa rentals, you can rest assured that its experienced team has thoroughly researched each property's history, surroundings, and access to local services to ensure that all the villas listed will meet even the most discerning clients' needs.
The company's expert management team has developed a concierge service that provides a seamless luxury experience and tailors your itinerary to create your ideal indulgent holiday. From world-class chefs and intimate behind-the-scenes experiences with local artisans to adrenaline-filled jet ski tours, you will have it all while staying in luxury accommodations.
Sought-After Destinations
Have you been dreaming of living in a palace by the sea? Of seeing the morning tide and hearing the rustling of the palms?
In one of Insider Villas' gorgeous Seychelles villa rentals, you can experience all this and more while escaping to a luxurious private space where you can relax and unwind.
These villas are both grandiose and comfortable and have been chosen as both their interior and exterior unmistakably convey the spirit of the villa and the authentic feel of the locale.
Additionally, each villa responds to its environment with carefully chosen furnishings and decorations inspired by local architecture, have built-in top-notch amenities, and friendly staff to ensure that you have the perfect stay.
If you are searching for a scenic Mediterranean destination, then Insider Villas' Tuscany villa rentals will transport you to the stunning Apennine Mountains or offer you a rejuvenating stay among the country's scenic vineyards and olive groves.
With bespoke maid and laundry services, as well as a world-class concierge, Insider Villas luxury locations are perfectly situated to give you direct access to award-winning beaches, world-famous bars, live musical performances, a chance to fit in a round of golf and shop at some of your favorite stores as everything will be within walking distance of your holiday villa or estate.
More information
To find out more about Insider Villas and to see its complete collection of luxury villas and estates, please visit the website at https://insidervillas.com/.
Source: https://thenewsfront.com/insider-villas-launch-selection-of-luxury-villa-rentals-and-experiences-throughout-mallorca-ibiza-italy-seychelles-croatia-and-beyond/
About Insider Villas
Hospitality connects us. It connects people, cultures, and communities. It's a universal and inspiring force that we at Insider Villas are dedicated to bringing to our customers through unique experiences and an impeccable collection of villas in Mallorca, Ibiza, Italy, Seychelles, Croatia, and beyond.
Contact Insider Villas
Av. de Joan Miro 340
Palma
Mallorca 07015
Spain
+34 605 92 58 87
Website: https://insidervillas.com/